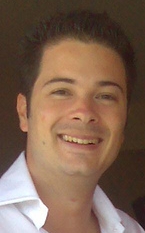 Today I have the honor to interview the guy behind Symbianfrance.com – Gregory Taieb.
Previous interviews:
Previous interviews:
Michael Hell (Nokianblog)

So,tell me something about your person.(age,hobby etc.)
>I'm Greg and am living in France. I'm 27 and and both web and mobility are my passions.

How do you came to the mobile and S60 scene?
>I had one of the first mobile shipped in France. A huge Motorola (I can't remember the name). It was in 1999 and I never stopped until then.

My first experience with S60 (which was then called Series 60) was with a 3650. I was looking forward to test Symbian since the 7650 (the 1rst S60 device) but at that time I was just a student with not enough money to get high range device.

A couple of years ago I had the opportunity to get a Nokia 3650. This is certainly the ugliest S60 ever shipped but I really felt in love with S60. There were many reasons for this:
– By the time it was among the first device with a VGA camera and high range specifications (Bluetooth, large color screen, GPRS)
– I liked the ergonomy. Everything was easy to do and the menus were very practical
– I liked the ability to install 3rd party apps (even though at that time there wasn't much application available for Symbian).

Tell us something about Symbianfrance.
>Symbianfrance is a French website which offers a daily coverage of S60 and UIQ news. The website also provides text & video reviews, software download,..

Why did you start Symbianfrance
>Symbianfrance is a personal project launched almost 2 years ago. I raised the idea on one of the main mobility forum in France called PDA France (by the time I also joined the website's team). There was so many people enthusiast to that idea that I decided to buid the 1rst French website integrally dedicated to Symbian OS (not only S60 but also UIQ and S80). Indeed even if there was many forums and website for mobiles non of them was only dedicated to Symbian.
The idea was to gather in a single place:
– Devices specifications
– Reviews
– Software
– News
Even today I don't know any other website who offers this approach: Providing, news, softwares and reviews for only Symbian devices. Of course there are many very good websites but none of them offers this transversal approach.

Do you have a idol(blog idol)?
>No. I like and read regularly many websites but don't have any idol.

What was your first S60 phone and which device do you have at the moment?
>My first S60 phone was a 3650.
My current devices are N73, N93, and N95 & N800 (internet tablet).
Of course the phone I use on a daily basis is the N95 which is simply all I can ask a phone to do.

What do you like most about S60?
>What I prefer in S60 is the way it improves itself in each new version. 3rd Edition had a slow start but is currently – In my opinion – the faster and most stable mobile OS. Boot time and menu speed is now almost comparable to a basic phone. I also really enjoy all the new apps provided by editors. Everyday there is something new to test and S60 being the leader platform good applications often appears first on it (ie: fring, shozu,…)

Where should S60 make improves?
>S60 should improve in different ways:
– Higher screen size and resolution and touchscreen devices.
– Standard connectivity for each phone (USB, Jack port)
– Better autonomy
– Better PIM (similar to UIQ ou Windows Mobile)

Now a question you miss and you want to answer?

Will S60 still be the leader OS in 5 years?
>My opinion is that even if S60 currently owns something like 70% of the market, competitors are here to stay: Windows Mobile, RIM (Blackberry) and Linux want to increase their market share.

I think that Symbian S60 could stay the leader if 3 conditions are here:
– More present on the North American market
– Having more licensees such as LG, Samsung,… to produce S60 based devices
– Producing an alternative touchscreen interface to compete with Windows Mobile, Palm OS and Linux.