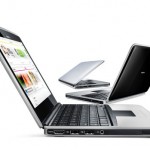 O2 together with Nokia announced that the Nokia Booklet 3G will be available in Germany from the 22 October. The Nokia Booklet 3G packs WiFi, 3G, HSPA, Bluetooth and GPS and offers a whopping 12 hours battery. It's running on  Windows 7, offers a HDMI port and Nokia services such as Nokia Maps.
GERMANY – The Nokia Booklet 3G will be available to O2 customers in Germany from October 22, a little over two weeks from now. The announcement was made today and the device will be available for €249 on a €20 per month tariff over 24 months. There is also a flat rate data tariff of €25 per month. We'll have further confirmation on this pricing as we get it.
Thus you end up paying €729 or €849 which is quite a bit. However, the Booklet looks really trendy, is well built and state of the art.
Source: Nokia Conversations