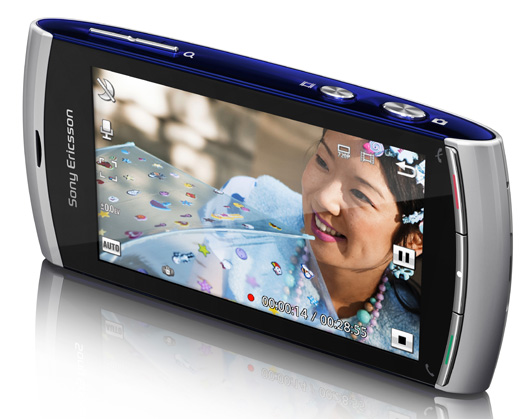 Sony Ericsson have now officially announced the Sony Ericsson Vivaz. The Vivaz sports a 8 megapixel camera, GPS, WiFi and on top of that it records videos in HD (720p HD recording). It based on the same S60 5th Edition UI as the Satio and comes with a fast 720 MHz processor. Other than that if features a 3.2 inch touch- widescreen , twitter and a facebook client. It is supposed to hit the market in Q1 of 2010.
Sony Ericsson Vivaz™ – the second installment in a new family of communication entertainment phones also introduces HD video capabilities into the portfolio
London – January 21 2010 – Sony Ericsson Vivaz™, announced today, follows on from the Xperia X10 announced in November 2009, and is the second phone in the new family of communication entertainment phones coming to market in the first half of 2010. Sony Ericsson Vivaz™ will come to market in Q1 2010.

With Sony Ericsson Vivaz™ communication truly becomes entertainment with high quality HD video allowing consumers to produce and broadcast their best experiences with the latest video capture and sharing features.

* Capture – record spontaneous moments and memories in HD quality and crisp high resolution for a real-life video experience. The dedicated video key allows consumers to shoot video instantly with continuous auto focus for the perfect film every time.
* View – review video content in the standby panel or online via Wi-Fi on the 3.2 inch widescreen
* Share – upload via Wi-Fi onto YouTube™ and Picasa in high resolution while still using other features on the handset






The open platform also allows users to personalise their entertainment experience by downloading great applications through PlayNow™ and the Symbian™ Developer Community.