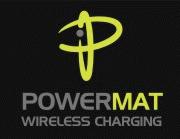 Earlier this month at Mobile World Congress in Barcelona, we had the chance to take a look at the infamous Powermat. Powermat is a wireless charging system and an aspirant for the hottest gadget of this year. Instead of having a spaghetti of cables for charging your various gadgets, Powermat confines all this mess into one simple and revolutionary mat. All you need to do is place your phone or device on the mat and it begins charging instantly. So how does this wireless charging technology work? Well, the whole system consist out of one mat, that is available in different sizes allowing you to charge up to three devices simultaneously, and a receiver which is attached to your device of choice. The Powermat X1, X2 and X3 will be available in Summer 2010 for a retail price of $29,99, $44.99 and $59,99 retrospectively. The number of the mat, i.e. X# indicates the number of devices that the mat can charge. There are potable as well as home and office mats available which can be used as a very nifty hub.

The receiver for the device is currently only available in the form of a additionally cover or a battery-door with the receiver attached to inner side of the cover, making the phone a little thicker and unwieldy.
However, in Barcelona, Powermat also demonstrated the ultimate solution to this issue, in the form of a Powermat battery. Hopefully this battery is something manufacturers will consider to distribute with their devices as it encases the whole Powermat wireless charging technology inside it, eliminating the need for an additional battery cover. Simply replace the phone's original battery and no-one will know any different. This solution will be available in June 2010 and comes at a suggested retail price of $24.99, bargain!
Of course Powermat is approved by all the major manufacturers such as Samsung, Nokia and Apple, and so you can use the Powermat solutions without the fear of loosing your warranty or damaging your device in any way. The Powermat's Radio Frequency Identification will instantly know what to charge, how long to charge it for and when the device's battery is full. Moreover, Powermat can charge your device as fast as the standard charger that came with the device.
We used the term phone sparingly as Powermat can also charge music players, handheld game consoles, electronic readers, GPS devices, Bluetooth headsets, netbooks and even laptops. The Powermat technology has been miniaturized to a level where it can be embedded into virtually any device, as well as walls and table top surfaces. The Powermat technology is fast, efficient and safe to use, revolutionizing the way consumers charge and power their devices. As soon as we get a review unit in, we'll put a more in depth review, so make sure you subscribe to our RSS Feed or catch us on Twitter @SymbianWorld.