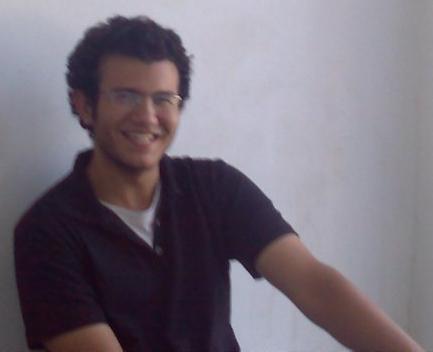 As you have noticed I've taken a break for some weeks or even months. Now I'm back with plenty of bloggers I talked with and who answered some questions. I will start with Tarek Ghazali from Symbiano-Tek. Read more to know more about him.
Previous interviews:
So,tell me something about your person.(age,hobby etc.)
Well I'm an 18 years old guy from Egypt, Cairo. I spend most of my time on the Internet, so I guess it's maybe my hobby. Playing piano might be as well. I'm still studying in the German University in Cairo and I hate German courses!!J

How do you came to the mobile and S60 scene?
It all started when I got my 6630 probably 2 years ago. I was amazed by its massive abilities and I was always interested in getting the most out it.

Tell us something about your blog.
Well my blog is probably the first blog from Egypt to talk about Mobile and S60 and I'm proud of it! J

Why did you start blogging?
Mainly because, most S60 owners do not know how powerful a S60 is. They just use it as an ordinary mobile to make phone calls, send SMS, and probably take some pictures from time to time. It's like having a digital satellite receiver, and using it only to watch local channels! I can swear most of N95 owners that I know, do not know what a GPS is!!!

I was also fascinated on how combining a S60 and a PC can come up with powerful, useful results. The thing is, I never found all guides/ tricks/ techniques gathered in one place, so I decided to bring them altogether in Symbiano-Tek.

So the main goal of my blog is to get people to learn S60, and get them to learn how to get the most out of it.

Do you have an idol(blogging idol)?
Not really. There are really some good bloggers out there that I favorite but I don't consider any as a blogging idol.

What was your first S60 phone and which device do you have at the moment?
My first S60 phone was the Nokia 6630 and currently I have a Nokia N80

What do you like most about S60?
A Cell Phone + A Digital Camera + A Mp3 Player + A GPS + A Flash Drive = A Multimedia Computer= A S60

In one word: Being Powerful

Where should S60 make improvements?
Battery, Battery, Battery
Stability, Stability and Stability! lol

Now a question you miss and you want to answer?

Mmmm, What phone do you wish to own/ get your hands on?

N95 8GB/ N82!