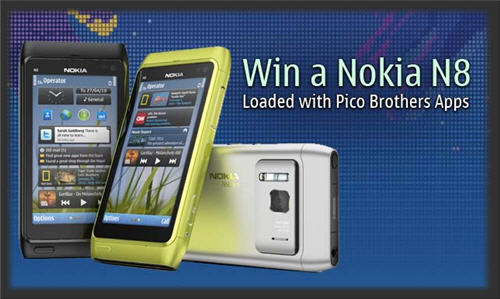 Hello guys! So here's another favorite menu that you've been waiting for, winning brand new devices! Yes. Pico Brothers is giving away a brand new Nokia N8 loaded with bunch of Pico Brothers Apps! How cool, eh? Plus another one is to win a new Nokia X6 from Vlingo! So two ways to win these brand new Nokia devices.
Check out our Nokia X6 Review! (just click)
Pico Brothers' win a Nokia N8
To enter in competition of Pico Brothers you will be going to enter your name and email address. Last is you're just going to answer a question on what other features you would like to do in your phone aside from calling and web surfing. To those who doesn't know what is Pico Brothers is, well, it is mobile app developer providing wide range of apps for Nokia that is also available through Ovi Store and from their very own website.
Vlingo Plus' win a Nokia X6 and Nokia 5233
Vlingo is giving away a Nokia X6 and five (5) 5233 phones through their sweepstakes competition that is running on their facebook page. All you need to do is LIKE their page and enter your details on their sweepstakes column and lastly is leave a comment on their FACEBOOK wall answering why you love Nokia and Ovi. Simple! Isn't it?
Vlingo is smartphone app that let's you instantly send a text or email message, call a friend, search the Web, create a "note to self" and more by speaking to your Nokia smartphone.
So good luck to everyone! I already entered on Vlingo competition, I really want to trial a Nokia X6. But nonetheless, I always love to give you competition updates 'coz I know you love 'em. Both contests will end by August 31.
Via Ovi