Fadi Chehimi has developed an accelerometer based game, called Mirage Money, which is using also the camera to provide you with a real environment. You're flying through your real environment or an virtual environment and tries to collect as much 3D money as you can and control everything by tilting or rotating your Nseries ( N95, N95 8GB, N82 or N93i).
Jump over to Mosh do download this great game.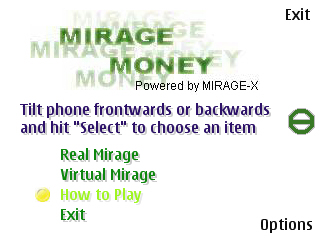 You can choose between two game modes – Real Mirage and Virtual Mirage
Real Mirage:
After opening your camera shutter and holding your Nseries horizontal you can fly through your room or the environment you're currently in.
Virtual Mirage: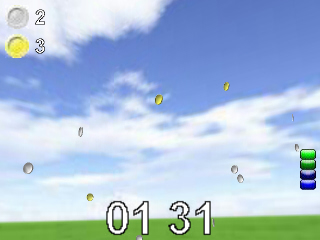 Your're flying through a virtual "world" and have the same aim as in the "Real Mirage".
So, what do you think about this game or this kind of game? Do you see space for improvements? If so, please post your suggestions so that the developer can improve further versions.