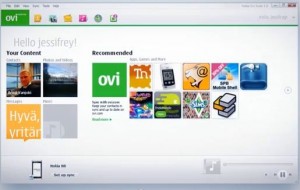 The new version of Ovi Suite is the 3.0 which is still in beta phase.  The service application brings a lot of  changes and upgrades from the previous app for your computer. Few of the noted changes were the Ovi Music and Store integration in your home. Where you will receive updates with these content right in your Ovi Suite Home. Other cool features are also the software notifications and back up information of your device.
Summary of new features:
New home view
Ovi Music Integration in your Suite for full management control like sync directly to phone
Ovi Store content recommendations
New Software update and Back-up information
Improvements to contacts, ovi maps, calendars and other multimedia management on Suite
Detailed new features and changes:
A new Home view
Get quick access to your content and to sync
View recommended apps and games from Ovi Store
View recommended music from Ovi Music *
Receive notifications to update your phone software and to back up your phone
Connect to the internet without a fixed connection or WLAN
Introducing Ovi Music
Get full control of playback
Discover and download your favourites from the millions of tracks available on Ovi*
Drag music to and from your phone
Have access to your Ovi Music Unlimited account *
Get all the features you need in Nokia Ovi Suite – no need for a separate player
Other improvements
Experience the faster and simpler installation
Delete individual maps from your phone, download maps with greater reliability
Enjoy improvements to syncing and stability
Download the Ovi Suite 3.0 Beta from Betalabs.