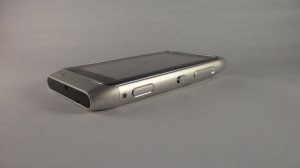 Before posting this issue and confirmed that I wasn't the only one who has small light leakage on the bottom cover of Silver Nokia N8. Thanks to @camb078 for confirming that he has the same issue with the light glowing on the plastic bottom cover of Silver White Nokia N8 that is visible on dark.

A photo and a video below shows which specific part of the plastic cover did  the lightings leaked due to the color that is prone to this problem.
For now I'm doing some simple solution/fix on this small problem which I'm planning to post tomorrow.