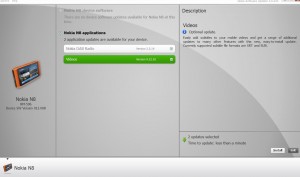 The Nokia N8 gets another update before PR 1.1 hits public. The new update is the Video Subtitles support to your movies. There are two sub format that it currently crunch for your videos, the SRT and the SUB. You can get the update through checking updates via OTA or NSU. The update is just around 1MB which is not bad if you download it through OTA with 3G.
On  my case, I always used the Beta NSU or Nokia Software Updater when checking and installing updates. I find it comfortable cause of the many problems I've encountered with this OTA or Over The Air. And don't forget to back-up or sync first.

Another update that was found is the DAB or Digital Audio Broadcasting function on your N8. I will just do a separate post about this soon after finishing heavy school works this week.
HOW TO ADD OR PLAY MOVIES WITH SUBTITLE:
(Check if you already updated your phone to new video software update using OTA or NSU, if YES then follow below)
1. Download the subtitle file (.SRT or .SUB) from the internet or web. Some movies from P2P includes subtitles.
2. Transfer the Subtitle file in the same folder with your movie.
3. Change the name of the subtitle file the same as your movie file except from the file type. An example below.
4. Play the movie from gallery and ENJOY!