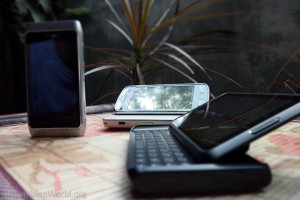 The Nokia E7 galore doesn't just end with the unboxing that we've shared last time, so today is another E7 treat for you guys. With the Nokia E7 and N8 in my hands, I borrowed the N97 classic from my friend to compare it with the latter. This comparison focuses on design review for E7 and N97 due to N8 and E7 are latest devices with the same form factor and some designs.
Jump for more after the break.
What's hot with E7 design?
Anodized Aluminium casing
Gorilla glass display and 4″ AMOLED CBD screen
Four row keyboard with tilt design
Slim and very appealing
What's not hot with E7?
Camera is exposed to scratches but I'm not sure if it is a scratch resistant proof because I already noticed that there are some small scratches.
The missing 2mm pin charger support
Bit heavy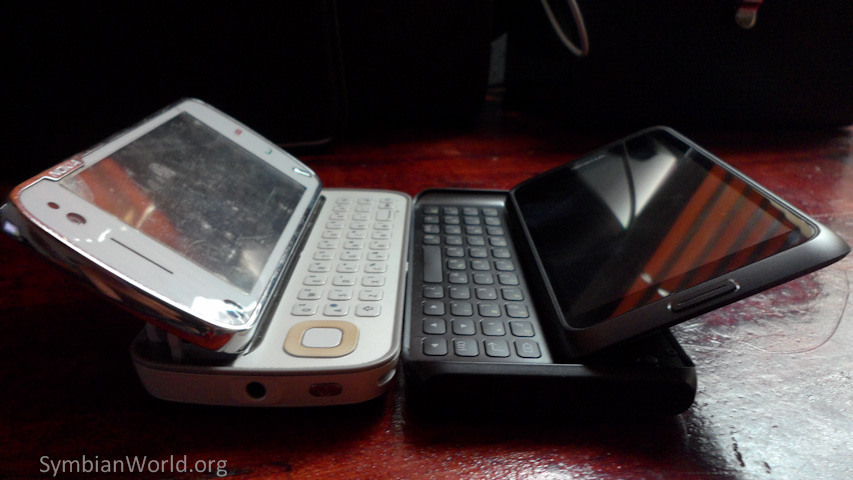 Highlights for Nokia E7 vs Nokia N97
Nokia E7: 123.7 x 62.4 x 13.6 mm, 176 g
Nokia N97: 117.2 x 55.3 x 15.9 mm, 150 g
Body: E7 feels very solid due to the Anodized Aluminium casing compare to N97 that is plastic but lighter.
Front: Glossy screen and bezel on E7 is very appealing, while the N97 has smaller façade
Back: E7's back is layered flat with no other parts sloping while N97 has a curvaceous style for the back cover. The E7 camera is exposed to scratch compare to N97 that has an active lens cover.
Sides: E7 has a thinner body and rounded construction of its sides overall it looks great compare to N97
Keyboard: The absent of D-pad on E7 made it possible to have a four row QWERTY keyboard. Although the keys have new layout, but with just few use of the keyboard you will then adjust to it.
Keys: The keys on E7 are improved making an advantage on achieving slimmer body. Also, the missing call and end keys on front of E7 are not that big deal.
Speaker: The single loud mono speaker on E7 is placed on the bottom cap but it is not cover when you laid your phone on tables.
The E7 design inherits N8 form factor and N97 tilt slide, and due to the business focus of E7, the QWERTY keyboard was a big requirement. Thankfully, Nokia were able to produce a stunning and sexy business phone with just the sacrifice of some other things like the AutoFocus camera. And compare to N97, the E7 design was very much improved from the body construction to the dimension.
So which do you think is the sexiest device between these three?