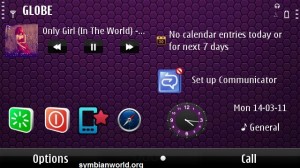 Starting today I will be showcasing the best theme out there.
So for the week's best Symbian theme goes to Vion developed by TheShadow from mobilethemesworld.net . A simple layered background theme with hexagon tiles and violet colour. The theme is best to have in black devices but actually it will just blend with whatever colour of device once you installed it.
Highlights of the theme:
Background is hexagon tiles on violent colour
Home screen widgets' border are invisible
Analog clock looks awesome
Much likely for black or dark devices
Wide lists of customized icons
Multimedia player such as music and video have good design
Tips and Suggestion:
The theme looks better if you change your display text font to small. Also analog clock has good design.
Alternative series themes with the same style:
Bon – Black hexagonal tiles
Gron – Green hexagonal tiles
Oron – Orange hexagonal tiles
Reon – Red hexagonal tiles
Yeon – Yellow hexagonal tiles
Supported devices:
Nokia: Symbian^3, S60v5, S60v3 FP2
Others: Sony Ericsson Satio, Samsung OMNIA HD, Samsung L870, Samsung INNOV8, Samsung I7110, Samsung i560, Samsung i550, Samsung i520, Samsung i450, Samsung i400, Samsung G810, LG KT615, LG KT610, LG Joy / LG KS10
Download link:
Direct download
Ovi Store download
Screen shots from Nokia E7: