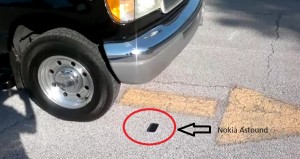 Aside from the excellent designs that Nokia delivered to people through their devices, they are also known for the quality of hardware materials they produced for their devices. They are indeed the one of the companies to produce long lasting devices like Nokia 3210 and so on.
Last time when Nokia N8 was announced, Nokia also shared some torture test video of the device. And it really showed on how tough the device was. Recently, some Nokia people also did some crazy test on their Nokia Astound (C7-00) proving that Nokia Astound could survive a 4-ton run over with a bus.
Do you think Nokia Astound is the toughest device?